The Story of Nichols Hills
The story of Nichols Hills
Mrs. Bixler
May 16, 1957
(The real story of Nichols Hills has never been told.  This beautiful and unusual community of homes, just over 25 years old, is one of the show places of the country, but to some 5,000 residents, it's just home.  It's a planned community – planned for quiet, gracious living, and it has a dignity and charm and character which is found in very few places in the country.
No one could be better qualified to tell this story of Nichols Hills than Mrs. George R. Bixler, 6707 Avondale Drive.  The Bixlers moved to Nichols Hills in October 1930, and Bixler has been town clerk for 24 years.
Much of the information on which this story is based comes from files of "Town Talk," a publication which began in 1934 and was abandoned when World War II broke out.  This publication was first typed, then mimeographed and later printed.  The first editor of the paper was Mrs. Clayton B. Pierce, 1600 Guilford Lane, and Mrs. Bixler was the second editor.  Another installment of the story of Nichols Hills will appear next week and each week thereafter, written expressively for Ye Town Cryer by Mrs. Bixler. – Editor's Note)
History Of Nichols Hills
Back of every venture is a dream of some individual.  One man who had accumulated sufficient worldly goods turned a few years back from building just houses and decided to express his idea of a community where homes – and only homes – would be the paramount issue.  This man, the late Dr. G.A. Nichols, had one ambition back in 1929, and this was to develop an area near Oklahoma City which would be an ideal place for homes and families.
Every home in the community was to be protected against the encroachment of undesirable surroundings by permanent building restrictions.  The streets, he decided, would be laid out with the express purpose of slowing down people with that deadly mania for "getting someplace fast."  The streets were not to be thoroughfares.  They were, rather, to invite leisurely travel.  It was the founder's idea that no one should want to travel at an excessive speed through the hills.  They were to be the "hills of homes," to be enjoyed by all who passed that way.  Such, then, was the founder's conception of Nichols Hills.
Dr. Nichols bought 2,700 acres of rolling prairies and farmland north of Oklahoma City.  From Kansas City, he brought in a firm of engineers to lay out the streets as he visualized them.  The old-fashioned "checker-board idea" of cut and dried straight streets and square blocks had no place in this new development.  The streets were to follow the natural terrain of the countryside, with the entrance to be at N.W. 63rd and Western.  The long graceful sweep of the curving streets, he decided, were not to go anyplace particular – but were just to roam around the hills past the homes.
The natural prairie was attractive and effective.  But, it was decided, that where homes were to be built there must be trees and lots of them.  Consequently, a whole forest of trees were moved in from distant places.  In that first year, more than 5,600  large shade trees and 35,000 smaller ones were transplanted to the new community of Nichols Hills.  There also were hundreds of different kinds of pine, spruce and junipers planted.  Plots for small parks dotted the whole community, and there were larger park areas in every available space.
The entrance at Northwest 63 and Western was marked by two stately towers of true Normandy architecture, and Avondale Drive took off from there in a northwesterly direction.  All street names at that time were scooped from the English countryside.  While the new streets were still a gleam in the developers' eyes, people who wanted to get away from the corner drug store and the hustle and bustle of the city bought the lots from a piece of paper.  They began to construct their homes, and before they were finished the paved streets rolled past their doors and everyone was very happy.
In early 1930, E. Highfill built and occupied the very first home in Nichols Hills, although the town did not even have a name at that time.  This home, located at the corner of Grand Boulevard and Bedford Drive, is occupied today by the William A. Norton family, the address being 6516 Northwest Grand Boulevard.
At about the same time a home was built at 1108 Wilshire Boulevard, and the name of the builder is unknown.  This home is occupied today by Mrs. Hazel D. Bogue.  The late Lewis Wahl and family moved to their home at 1208 Marlboro Lane shortly afterward.
In October of 1930, Dr. Omar L. Jordan moved with his family into his home at 6709 Avondale Drive.  The W.R. McWilliams family moved into their home on Avondale Drive, and the George W. Bixlers completed their new home at 6707 Avondale Drive that month, the paving beating them by one week.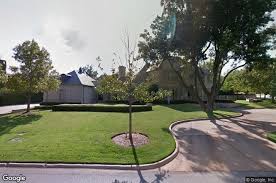 Moving into the new community in 1930, and still occupying their homes, were Dr. and Mrs. G.A. Nichols, who built their home at 7006 Nichols Road.  Dr. Nichols has since passed on.   Mr. and Mrs. John A. Brown built their home that year at 1601 Guilford Lane, and Brown has passed on.
Others who built that year were Judge and Mrs. C.B. Cochran, who built at 1605 Drury Lane; the J.Steve Andersons, 1606 Drury Lane; the H. Dorsey Douglas family, 1503 Drury Lane; and the George Fredericksons, 1604 Camden Way.  All are still living in their homes.  The Ray J. Spradlings built their home at 1504 Camden Way that year but later moved to 1124 Huntington Avenue.
For the rest of this story…click here
To find out more about this beautiful historic neighbor: click here
Homes for sale in Nichols Hills